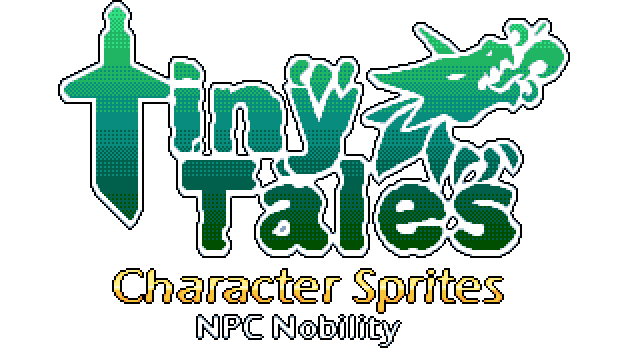 Tiny Tales: Human NPC Nobility Sprite Pack
A downloadable character sprite pack
Get this character sprite pack and 28 more for $179.50 USD
View bundle
Tiny Tales is designed for those who want to create a cutesy yet epic adventure scenario for their game. In TT: Human NPC Nobility expansion we cover the aristocrats!

This pack Includes:
20 sprites of 16 x 20px (and compatible 2x and 3x sizes for RPG Maker), split by the following categories:

Prince (2 Sprites)
Princess (2 Sprites)
Noble (12 Sprites)
Monarch (4 Sprites)
License Information
You cannot claim ownership of the assets (copyright/IP).
Assets can be used both in free and commercial games.
Assets can be modified freely to fit the needs of your game.
Redistribution and reselling of the asset files or derivatives as is without permission is strictly forbidden.
Other packs in this collection:
Purchase
Get this character sprite pack and 28 more for $179.50 USD
View bundle
In order to download this character sprite pack you must purchase it at or above the minimum price of $9.99 USD. You will get access to the following files:
Tiny Tales Human NPC Nobility 1.0
232 kB
Comments
Log in with itch.io to leave a comment.
Hi! Sorry, I am not too sure of what this question is asking. I am going to guess you mean if you can use it in a table top game? If so, then yes, feel free! Thanks!
Own this, but when I click promo says I do not. Otherwise, solid.
Do those fit with RPGmaker MV / MZ dimensions?
Hi! The base sprites are 16x20. In the pack, we've included a 2x size (Which will fit RPG Maker VX and VX Ace) as well as a 3x version that'll fit RPG maker MV and MZ.
that's great! I'm the Degica artist liaison and your assets were recommended, I don't want to put my email here so if you go to rpgmakerweb customer support and create a ticket about selling assets it will get sent to me by support and we can connect there.

Here's the link: https://www.rpgmakerweb.com/contact-us

Look forward to working with you!
Oh, that's amazing! We've sent a support ticket through the link. Thank you for this opportunity!
Hello, you make very nice assets! Are you interested in selling these on Steam and USDegicaShop and JPDegicaShop?