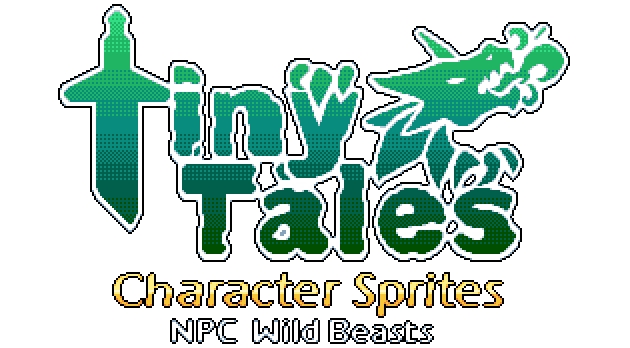 Tiny Tales: Wild Beasts NPC Sprite Pack
New addition to the Tiny Tales asset line!
---
Hi all,
We return with two more sprite packs, further expanding the sprites for the corresponding battle packs!
https://megatiles.itch.io/tiny-tales-wild-beasts-npc-sprite-pack
https://megatiles.itch.io/tiny-tales-faith-and-evil-npc-sprite-pack
This time, we adapted the battlers from Wild Beasts and Faith and Evil battle packs into sprite form!
Also, we'd like to make an announcement regarding the future of Tiny Tales. First of all, we cannot thank you all enough for your support. It keeps us going and provides us with ways to continue this asset line. As such, for all our future new releases, we will offer a 2 weeks frame window where we offer a loyalty discount on newly released assets.
https://itch.io/s/62154/new-release-loyalty-sale-1
If you own all the Tiny Tales products that were released prior to the new packs, you will be able to enjoy a 50% discount on the new packs! This will apply to all future products released as well!
We'll have more packs released before the end of this year as well so stay tuned!

Files
Tiny Tales Wild Beasts NPC 1.0
185 kB
Dec 11, 2021
Get Tiny Tales: Wild Beasts NPC Sprite Pack