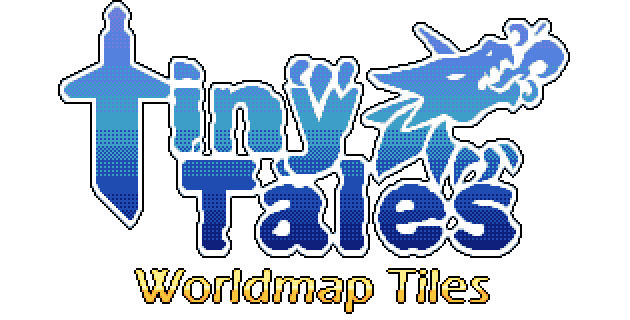 Tiny Tales: World Map 2D Tileset Asset Pack
A downloadable tileset asset pack
Itch.io Keys Notice (GAB Fresh Start HB)
Tiny Tales is designed for those who want to create a cutesy yet epic adventure scenario for their game. In TT: World Map, we cover several biomes and miniaturized areas!
This pack Includes:
3 types of world map land bases with several terrain skins to match!
Several styles of hills/mountains and tree icons and autotiles to cover the map with!
Fully animated ocean tiles and waterfalls, as well as beaches!
Some starting location icons that shall be expanded upon over time!
Compatible with RPG Maker MV/MZ
License Information
You cannot claim ownership of the assets (copyright/IP).
Assets can be used both in free and commercial games.
Assets can be modified freely to fit the needs of your game.
Redistribution and reselling of the asset files or derivatives as is without permission is strictly forbidden.
Other packs in this collection:

Purchase
In order to download this tileset asset pack you must purchase it at or above the minimum price of $14.99 USD. You will get access to the following files:
Tiny Tales 2D WorldMap 1.0
1 MB
Comments
Log in with itch.io to leave a comment.
I love your stuff, keep it up! It inspires me to keep trying to get better at pixel art myself.
I am using MZ right now, is there any thing I should know to make the cliffs work with the other overworld tiles? They seem to overlap incorrectly and do not line up at all like the picture. I must be doing something very wrong. Thanks. Sets in question;
A1Water
A2Terrains1A
A5 StandardCoast1

We'll look into this and get back to you as soon as possible. Thank you for bringing it to our attention.
This could be user error. I am new to RPG Maker, but i am looking at your Tiled sample at things seem to work there. Is there a RPG Maker template?
Hi! We were wondering if you could send us a screenshot for the problem that you're encountering. Apologies but we cannot seem to replicate your issue at this time. Thank you!
I feel stupid here. Perhaps I am setting these up incorrectly. Do you have a sample or a suggestion on which images go into what settings? I seem to have most issues with auto tiles generating esp with the cliffs. No angles either. I have pictures. Should I send them through email? Here is my set up at least.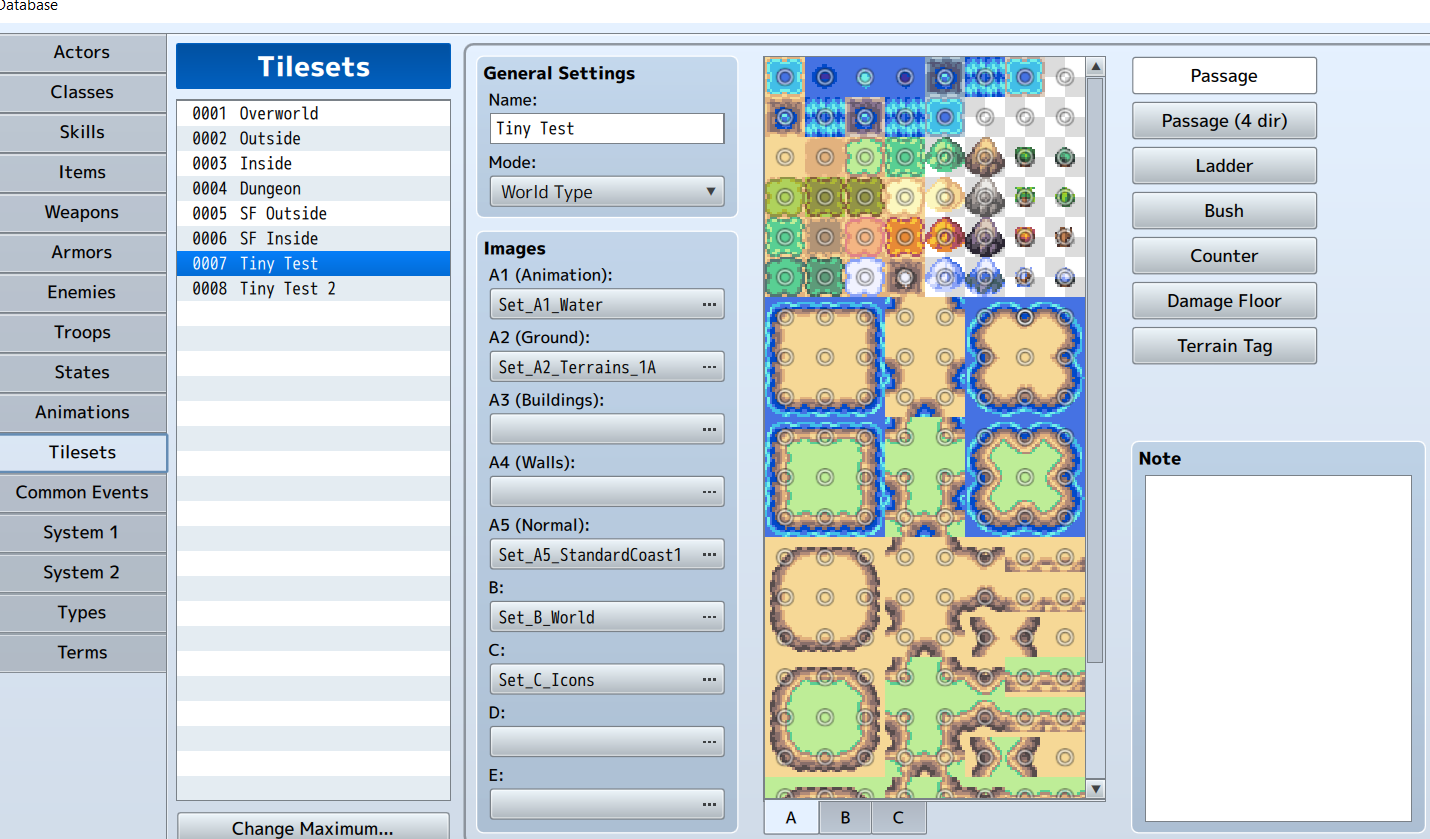 The setup here seem correct. Yes, please send the pictures to [REDACTED] and we'll take a look at it there. Thank you!
Side note, there are some functions and mapping possibilities that are only available to RPG Makers that utilize the Tiled Map Editor.
We've received and checked over the images you've provided. Basically, A5 sheets are by design, 256x512. The reason why you're not seeing those transparent tiles is because those were added in as a bonus, where users can elect to use them as D or E and manually apply em onto the map through the layer feature of MZ. They were not designed to work straight off of A5.
We suggest the following:
For the tiles in the "A5" row, to make usage of the transparent features of rocks and cliffs, put a duplicate of the set in the "C" tab of your tileset onwards.

As far as mapping in RPG Maker MV/MZ's default editor, this is the kind of style you will be able to do with the cliffs.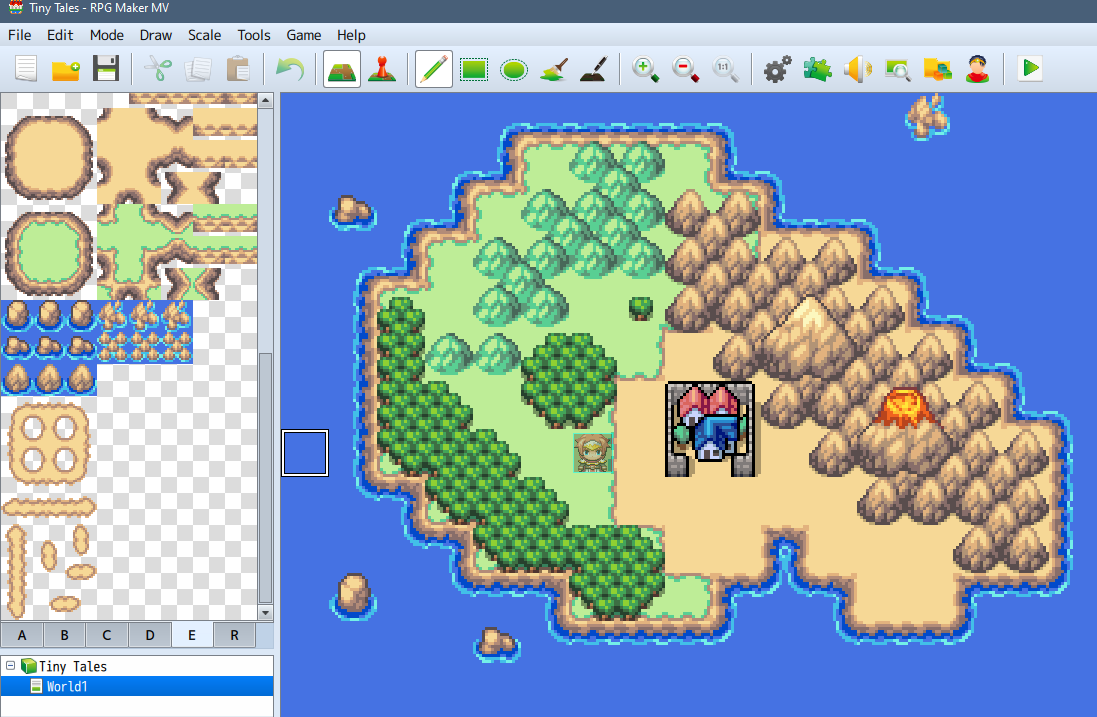 Hello,I've bought it at Unity Store,may i ask how to make the coast(the sea and land's joint) like in the image?Which kind of tiles to put them together?Thanks~~
Hi! have you checked the unity sample scene in the asset package? You can see several examples in there with different layered options and objects you can turn on and off for studying!

Additionally, here's a gif with the tile palettes used in question to achieve certain combinations (as mapped in unity, but this also should apply to other versions as well)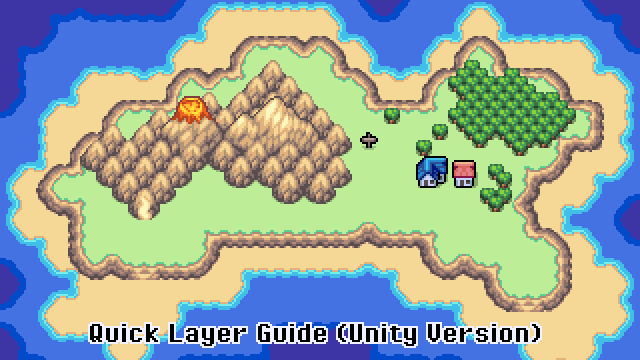 This sample uses the beach skin, but you can find other coast options if you have other preferences, such as the rocky water coast: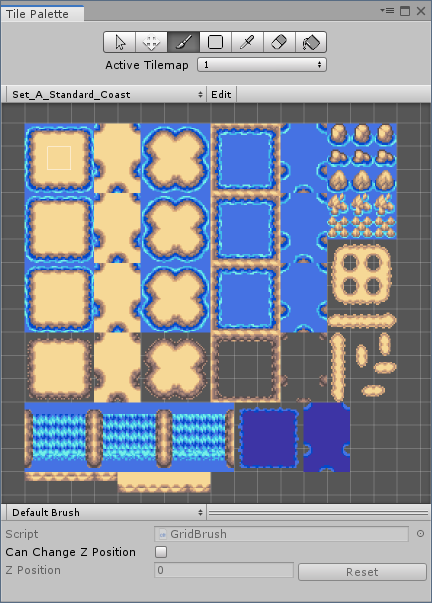 Hopefully this is clarifying enough!

Hi~Thanks for your example.Could you tell me which folder to find the sample scene?I've found in the Tiny Tales_2D_Overworld_2.0 and Tiny Tales_2D_WorldMap_1.0,every folder but found only TilePallets and Sample Maps.Thanks

Was checking out the sprites carefully because I wanted to see what the resolution was (though I noticed there is already a comment that asked, lol) and just wanted to let you know that there is a bit of an oddity in your last screenshot. Where the path is going south from the house, one of the trees is cut off and only half the sprite is there.
Thanks for bringing this into our attention! Thankfully it seems to be a mistake in one of the sample maps. this shall be fixed as soon as we can!
Hi! Apologies if this is noted elsewhere and I'm missing it, but what is the resolution of these tiles please?
Hi! No worries, we're happy to answer any questions! The tiles themselves are 16x16 and most sheets are 256x256 for the whole sheet. Let us know if you have any other questions!
Is all the animated tiles here set up for a 3 frame animation, or is there more frames?

Also, will you be making character sprites in the same style?
Hello! For now, all tiles use a 3 frame animation pattern, to make it compatible with RPG maker. As for sprites, that's a definite yes! It's something that's in the works but that we don't have a definitive date of release yet. We'll post a devlog in the future detailing the general style and extra content for the bundles!

Thanks for the reply. I really like this style so I'll make a purchase and see how I like working with them. Looking forward to more matching sets (especially characters) in the future~!